Speaker
Sergio E. Baranzini, University of California San Francisco, USA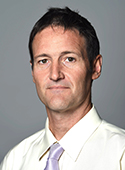 Sergio E. Baranzini is Professor In-Residence in the Department of Neurology at the University of California San Francisco (UCSF). He is also a member of the Graduate Program in Bioinformatics, the Institute for Human Genetics, the California Institute for Quantitative Biology (QB3), and the Institute for Computational Heath Sciences (ICHS). He holds the Heidrich Friends and Family endowed chair in Neurology.
Baranzini earned his degrees in clinical biochemistry (1992) and PhD in human molecular genetics (1997) from the University of Buenos Aires, Argentina. He then moved to UCSF to specialize in the analysis of complex hereditary diseases, and focused his efforts on multiple sclerosis (MS).
His current research involves a combination of wet and dry lab approaches to understand the origins of MS and other complex diseases. He leads the International MS Microbiome Study (iMSMS), an international consortium to study the effect of bacterial populations (microbiota) on MS susceptibility and progression.
Baranzini has published his research on MS in several top-tier journals like Science, Nature, PNAS, J Immunol, and PLoS Biol. He is a member of the International Multiple Sclerosis Genetics Consortium, the American Association of Immunologists, and an elected member of the American Neurological Association and the International Society of Neuroimmunology. He is also a member of the Editorial Board of the Multiple Sclerosis Journal, Neurology and mSystems in addition to serving as an ad-hoc reviewer for several other scientific publications in including Nature Medicine, PNAS, and the American Journal of  Human  Genetics.
---

Presentation abstract
The gut brain axis: how commensal bacteria may influence risk of neurological disease
Professor Sergio E. Baranzini, PhD
University of California San Francisco
San Francisco, CA. 94145. USA. Sergio.baranzini@ucsf.edu
Email addresses are provided for information in connection with the authors presentation only. Please do not mail credit card information under any circumstances.
Most neurological diseases follow a complex pattern of pathogenesis, in which both genes and the environment contribute to its onset and progression. Indeed, several of these diseases, such as multiple sclerosis, Parkinson's disease, and schizophrenia, have a well-documented genetic susceptibility. However, genetic associations typically explain only a fraction of the total phenotypic variance, suggesting the possible presence of key environmental factors. We hypothesize that the gut microbiota acts as a "proxy" for the environment and that its study can provide useful insights into the pathogenesis of neurological diseases.
New DNA sequencing technologies have enabled the sequencing of all kinds of microorganisms, including those living in and around humans (ie, microbiomes). Additionally, recent studies have shown characterisation of immunological responses to specific bacterial organisms both in-vitro and in-vivo.  
Current work in our lab aims to clarify the role of gut microbiota in multiple sclerosis (MS) and identify potential challenges and future opportunities for other neurological and psychiatric diseases. Specifically, we have generated data supporting the influence of bacterial organisms with proinflammatory properties on MS. In addition, we describe the international MS microbiome study (iMSMS), a multicenter effort to study a large population of patients with MS and their healthy household partners to define the core MS microbiome, including how it is shaped by disease-modifying therapies, and how to explore potential therapeutic interventions.
The gut-brain axis might provide a complementary set of hypotheses to current theories about the pathogenesis of neurological and psychiatric diseases. This complex and intertwined set of interactions between our human (self) and non-human ("foreign") symbiotic components of our self may have important roles in the therapeutic and/or clinical management of these disorders. 
Funding: US National multiple sclerosis society, US Department of Defense, The Valhalla Charitable Foundation.
Conflicts of interest: None
« Go Back