Speaker
Lisa Boulanger, Princeton University, USA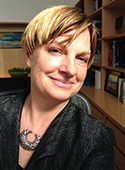 Lisa Boulanger is an Associate Professor in the Princeton Neuroscience Institute at Princeton University. She received her Ph.D. in Neuroscience from the University of California, San Diego with Dr. Mu-ming Poo, and performed postdoctoral research at Harvard Medical School with Dr. Carla Shatz. While at Harvard, Boulanger was a Junior Fellow in the Harvard Society of Fellows. She then accepted a faculty position in Neuroscience at the University of California, San Diego, where she was the Silvio Varon Professor of Neuroregeneration, and moved her lab to the Princeton University  in 2009. She is the recipient of numerous awards, including an Alfred P. Sloan Research Award, a Whitehall Foundation research award, the James Howard McGregor Prize, an Autism Speaks Research Fellowship, a Ray Thomas Edwards Foundation Fellowship, a Cure Autism Now Pilot Award, a Blasker Science and Technology Grant, a Term Gift from the Rampell Foundation, an Innovation Award, and awards from the New Jersey Commissions on Spinal Cord Research and Traumatic Brain Injury. The goal of research in Boulanger's laboratory is to understand how neuro-immune crosstalk contributes to the formation, function, modification, and disruption of neural circuits.
---

Presentation abstract
Beyond autoimmunity: Immune proteins in neural homeostasis
Lisa M. Boulanger
Princeton Neuroscience Institute,
Princeton University,
Princeton, NJ USA 08544
Email: lboulang@princeton.edu
Email addresses are provided for information in connection with the authors presentation only. Please do not mail credit card information under any circumstances.
Inflammation is a prominent feature of diverse nervous system disorders, and can trigger autoimmune attacks on neurons and support cells. In addition, recent research suggests inflammation may play an unexpected role in neurological disorders: by disrupting the newly-discovered, homeostatic functions of traditional inflammatory mediators in the nervous system. We have focused on members of the major histocompatibility complex class I (MHCI), which are best-known for their roles in immune surveillance. MHCI proteins are also expressed by healthy neurons, where they are regulated regionally, developmentally, and in response to synaptic activity. Altering MHCI expression in preclinical models is sufficient to disrupt developmental synapse elimination, and alter adult synapse density, synaptic transmission, and synaptic plasticity. These studies raise the possibility that altered MHCI expression, as is seen with infection, injury, and disease, could directly influence circuit structure and function. Indeed, naturally-occurring increases in neuronal MHCI levels with age have been implicated in aging-associated cognitive and motor decline. A key question is how, on a molecular level, MHCIs influence synapses and circuits. It is likely there are multiple pathways. MHCI can form a complex with immunoreceptors, including PirB, in trans, but manipulating PirB function duplicates some, but not all, phenotypes of reduced MHCI expression. We have also identified cell-autonomous effects of MHCI on NMDAR-mediated synaptic transmission, which may drive MHCI's effects on NMDAR-dependent synaptic plasticity. In addition, MHCI forms a complex with the insulin receptor, and is essential for neuronal insulin sensitivity. It is likely that changes in these homeostatic functions of MHCI occur alongside classical inflammatory and autoimmune changes, creating complex clinical profiles. Therefore, understanding the multi-faceted roles of immune effectors in the healthy nervous system is central to our ability to effectively diagnose, treat, and prevent neuroinflammation-associated disorders including multiple sclerosis, Parkinson's disease, stroke, schizophrenia, and amyotrophic lateral sclerosis.
Funding: Supported by NIH 1F30AG046044, Richard and Ellen Rampell Family Foundation, New Jersey Commission on Brain Injury Research, PNI Innovation Award.
Conflicts of interest: none.
« Go Back