Speaker
Josep Dalmau, University of Barcelona, IDIBAPS, and ICREA, Spain and University of Pennsylvania, USA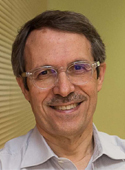 Josep Dalmau received his M.D. and Ph.D. from the Autonoma University of Barcelona, Spain. Dalmau trained in Neuro-oncology at Memorial Sloan-Kettering Cancer Center in New York and afterwards he was appointed to the faculty. After 11 years at Memorial, Dalmau was appointed co-director of Neuro-oncology at the University of Arkansas for Medical Sciences and then Professor of Neurology at the University of Pennsylvania. Dalmau is currently Research Professor at the Catalan Institution for Research and Advanced Studies (ICREA) in The Institut d'Investigacions Biomèdiques August Pi i Sunyer (IDIBAPS)/Hospital Clinic, University of Barcelona, and Adjunct Professor of Neurology at the University of Pennsylvania. Dr. Dalmau's research is currently focused on autoimmune encephalitis mediated by antibodies to neuronal cell surface and CNS synaptic proteins, a new category of brain disorders that he uncovered and for which he is considered a leading authority. His research is funded by a variety of agencies including the USA National Institutes of Health and the Spanish Ministry of Health. He is the recipient of many awards including the distinguished George W. Jacoby award of the American Neurological Association and the Rey Jaime I Prize, the most prestigious award given in Spain in recognition of his outstanding contributions to clinical medicine and has been elected a member of the National Academy of Medicine, USA. He is a member of many academic societies and serves as Editor-in-Chief of Neurology: Neuroimmunology and Neuroinflammation.
---

Presentation abstract
Anti-NMDA receptor encephalitis: an immune-mediated synaptopathy that presents with psychosis
Professor Josep Dalmau, MD 
ICREA, Hospital Clinic-IDIBAPS, University of Barcelona
c/ Casanova 143, 08036, Barcelona (Spain)
Email: Josep.Dalmau@uphs.upenn.edu
Email addresses are provided for information in connection with the authors presentation only. Please do not mail credit card information under any circumstances.
Psychosis is a key feature in anti-NMDA receptor (NMDAR) encephalitis and played a crucial role in the discovery of this disease.
We performed an overview of the clinical manifestations including age- and trigger-related phenotypic presentations, and the associated antibody-mediated mechanisms.
Most adolescents and adults with anti-NMDAR encephalitis present with irritability, insomnia, manic behavior, paranoid ideation, incoherent speech, catatonia or psychosis. These symptoms rarely remain isolated and usually precede a complex array of neurological problems such as dyskinesias, stereotyped movements, seizures, impaired level of consciousness, or autonomic dysregulation. Studies with cultured neurons and animal models show that patients' antibodies specifically alter the surface dynamics of NMDARs causing a decrease of synaptic clusters along with impairment of synaptic transmission and plasticity, leading to changes in memory and behavior. These effects are reversible upon removal of the antibodies, and are remarkably similar across antibodies from different patients or from a monoclonal antibody derived from intra-CNS plasma cells. Biophysical simulation (video) of the antibody-mediated synaptic changes indicates a necessary disruption of the cross-talk between NMDAR and other synaptic proteins, such as the Ephrin B2 receptor. Recent findings suggest the antibodies alter pre-pulse inhibition of acoustic startle, which is a common feature in patients with schizophrenia. These data along with advanced neuroimaging studies and investigations during clinical recovery reveal a long-lasting NMDAR network dysfunction predominantly involving frontal-limbic regions. Parts of this circuit are more vulnerable during brain maturation, as shown in ~25% of patients with herpes simplex encephalitis who predictably develop anti-NMDAR encephalitis: whereas dyskinesias and seizures almost always occur in ≤4 year-old children, psychiatric and cognitive alterations predominate in >4 year-old patients.
Anti-NMDAR encephalitis is an antibody-mediated synaptopathy with prominent neuropsychiatric manifestations and underlying antibody-mediated effects that converge with the NMDAR hypofunction theory of schizophrenia.
Funding: Instituto Carlos III/FEDER (FIS PI14/00203) and CIBERER CB15/00010; NIH RO1NS077851; Agaur SGR93; and Fundació CELLEX.
Conflicts of interest: Dr Dalmau receives royalties from Athena Diagnostics for the use of Ma2 as an autoantibody test and from Euroimmun for the use of NMDA, GABAb receptor, GABAa receptor, DPPX and IgLON5 as autoantibody tests; he has received an unrestricted research grant from Euroimmun.
« Go Back