Speaker
Betty Diamond, The Feinstein Institute for Medical Research, USA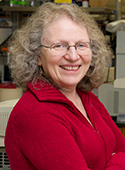 Betty Diamond received an MD from Harvard Medical School.  She performed a residency in Internal Medicine at Columbia Presbyterian Medical Center, and then a post-doctoral fellowship in Immunology with Dr. Matthew Scharff at the Albert Einstein College of Medicine.  She is currently Head of the Autoimmune Disease Center at the Feinstein Institute for Medical Research.
Diamond's research has focused on the induction and pathogenicity of anti-DNA antibodies in Systemic Lupus Erythematosus. She showed that somatic mutation of immunoglobulin genes can generate autoantibodies in mice and humans, making the germinal center a focus in disease pathogenesis. Her laboratory has also demonstrated that a subset of anti-DNA antibodies cross-reacts with the N-methyl-D-aspartate (NMDA) receptor and showed that autoantibodies can cause aspects of neuropsychiatric lupus, creating a paradigm for antibody-mediated changes in brain function in many conditions. Most recently, she has developed a research program on the immunomodulatory functions of C1q.
She received the Outstanding Investigator Award of the American College of Rheumatology (ACR) in 2001, the Lee Howley Award from the Arthritis Foundation in 2002, and the Recognition Award from the National Association of MD-PhD Programs in 2004, and she was elected to the Institute of Medicine in 2006. Diamond is an elected fellow of the American Association for the Advancement of Science (AAAS). She has served on the Scientific Council of the National Institute of Arthritis and Musculoskeletal and Skin diseases (NIAMS) and the Board of Directors of the ACR. She is a past President of the American Association of Immunologists.
---
Presentation abstract
Mechanisms of cognitive dysfunction in SLE
Jacqueline Nestor, PhD1, Nina Kello, MD1, Yoshi Arinuma, MD,PhD2, Professor Patricio T Huerta, PhD1, Professor Bruce T Volpe, MD1 and  Professor Betty Diamond, MD1
1Center for Autoimmune Musculoskeletal and Hematopoietic Diseases, The Feinstein Institute for Medical Research, Manhasset, New York, USA
2Rheumatology and Infectious Diseases, Kitasato University School of Medicine, Kanagawa, Japan
Corresponding author:
Professor Betty Diamond, M.D.
The Feinstein Institute for Medical Research
Center for Autoimmune Musculoskeletal and Hematopoietic Diseases
350 Community Drive
Manhasset, New York 11030
E-mail: bdiamond@northwell.edu
Background:
Neuropsychiatric lupus (NPSLE) is a common manifestation of systemic lupus (SLE) and one that lacks specific therapy.  We have been exploring a model of NPSLE that begins with penetration of brain parenchyma by an antibody that binds both DNA and the N-methyl-D-aspartate receptor (NMDA) receptor (DNRAb). We have observed that there is immediate neuronal excitotoxicity followed by a loss of dendritic arborization in surviving neurons. The goal of these studies was to understand the basis for the alterations in dendrites.
Methods:
Non spontaneously autoimmune mice are immunized to produce DNRAb and then given lipopolysaccharide  (LPS) to cause breach in blood-brain barrier (BBB) integrity.  We explored these mice using immunohistology, and electrophysiology to understand the role of microglia and the complement component C1q in the structural deficits in the surviving neurons.
Findings:
We have shown that the loss of dendritic complexity requires both microglia and C1q and can be prevented by angiotensin converting enzyme (ACE) inhibitors that cross the BBB.
Conclusions:
These observations suggest that microglia are a therapeutic target in NPSLE and that it is appropriate to consider clinical trials with ACE inhibitors.
Funding: NIH
Conflict of Interest: None
« Go Back