Speaker
Frederic Geissmann, Memorial Sloan Kettering Cancer Center, USA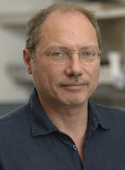 Frederic Geissmann trained in Medicine and Immunology at the Necker Hospital for Sick Children in Paris, France (MD 1996, PhD 1999), and as a postdoctoral Fellow with Dr. Dan Littman (2000-2003). He then moved back to Paris where he became the director of an Inserm Unit (2006), before moving to Kings College London in 2008, as a Professor of Immunology and director of the Centre for Molecular and Cellular Biology of Inflammation. Frederic Geissmann moved to Memorial Sloan Kettering Cancer Center, in New York, in 2015. Since then, he is a member of the Sloan Kettering Institute and a professor at the Gerstner-Sloan Kettering Graduate School and at the Weill Cornell Graduate School of Medical Sciences.  
Frederic Geissmann's lab has studied the development homeostasis and diseases of monocytes and macrophages, and elucidated several important aspects of their developmental origin, homeostasis, and functions, including the description of the two main functional subsets of monocytes in mice, the common bone marrow progenitor for dendritic cells and monocyte/macrophages (MDP), and the yolk Sac Erythro-Myeloid Progenitor (YS EMP) for tissue resident macrophage. His lab developed novel experimental approaches to study the functions and genetic diseases of macrophages. In recent works the lab demonstrated that a somatic mutation in EMP causes a neurodegenerative disease mediated by mutated microglia. In pursuing these studies, the lab hopes to unveil genetic basis for the roles of macrophage in degenerative, inflammatory and tumoral diseases.
---

Presentation abstract
Microglia somatic mutations and neurodegeneration
Professor Frederic Geissmann
Memorial Sloan Kettering Cancer Center
Zuckerman Research Center. Room 1560. Box#494
417 E 68th St, New York, NY 10065
Email: geissmaf@mskcc.org
Email addresses are provided for information in connection with the authors presentation only. Please do not mail credit card information under any circumstances
The genetics determinants and pathophysiology of neurodegenerative diseases are poorly understood and there are few therapeutic options. Neurodegenerative diseases are characterized by progressive neuronal dysfunction and loss, and chronic glial activation. Whether microglial activation, which is generally viewed as a secondary process, is harmful or protective in neurodegeneration remains unclear. Our results suggest that somatic mutations, in particular a BRAF(V600E) mutation, in the resident macrophage lineage in mice, and possibly in human can cause severe late-onset neurodegenerative disorder mediated by mutant microglia. These data suggest that microglia mosaicism is a cause of neurodegenerative diseases in human beings. In addition to a molecular diagnosis, identification of durable targets /pathways such as the MAPK pathway should offer opportunities for therapeutic interventions.
Funding: NIH NHLBI 1 R01 HL138090-01 and NIH NIAID R01AI130345-01
Conflicts of Interest: Consultancy for Third Rock Venture
« Go Back