Speaker
Michael Heneka, University of Bonn, Germany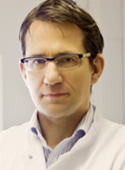 Education:
1996    Medical degree (with excellence), University of Tübingen
1998    Dr.med. (summa cum laude), University of Tübingen, Germany
2002    Board examination for Clinical Neurology, University of Bonn, Germany
2003    Habilitation, University of Bonn, Germany
Research and Professional Experience:
2003 –2004     Senior Clinical Fellow, Dept. of Neurology, University of Bonn
2004 –2008     Prof. of Molecular Neurology (C3), Dept. of Neurology, University of Münster
since 2008       Prof. of Clinical Neurology (W3), Dept. of Neurology, University of Bonn
since 2010       Member of the German Center for Neurodegeneration (DZNE)
since 2010       Head of the Neurodegeneration Outpatient Unit (KBFZ)
since 2013       Adjunct Professor, Dept. of Medicine, University of Massachusetts
since 2016      Chair, Dept. of Neurodegenerative Disease and Geriatric Psychiatry, University of Bonn,
Awards and Honours:
1992 –1996     Fellow of the Studienstiftung des Deutschen Volkes
1999                Attempto Award, University of Tübingen
2011                Christa-Lorenz Award for ALS Research
2013                Hans und Ilse Breuer Alzheimer Research Award
Research Focus
Heneka has always been interested in immunology and neuroscience. At the very beginning of his career Heneka combined his experimental knowledge in immunology with questions arising from the field of neuroscience and in particular neurodegenerative disease. In a second line of his research, Heneka showed that the degeneration of the locus coeruleus and subsequent changes of norepinephrine levels in its hippocampal and cortical projection areas, facilitate and promote innate immune reactions upon deposition of fibrillar beta-amyloid in murine alzheimer disease models. Recently, I demonstrated that inhibition of NLRP3-mediated immune activation protects APP/PS1 mice from the development of amyloid pathology, spine loss and decline of learning and memory. Furthermore, we found that  apoptosis-associated speck-like proteins containing a CARD (ASC) released by microglia, bind rapidly to amyloid-β and increase the formation of amyloid-β oligomers and aggregates, acting as an inflammation-driven cross-seed for amyloid-β pathology.
---

Presentation abstract
Is neuroinflammation a promising therapeutic target for Alzheimer's disease?
Professor Michael T. Heneka1,2
1 Dept of Neurodegenerative Disease and Geriatric Psychiatry, University of Bonn, Bonn, Germany, Sigmund-Freud Str. 25, 53127 Bonn, Germany
2German Center for Neurodegenerative Disease (DZNE), Bonn, Germany, Sigmund-Freud Str. 26, 53127 Bonn, Germany
Email: michael.heneka@ukbonn.de
Email addresses are provided for information in connection with the authors presentation only. Please do not mail credit card information under any circumstances.
The accumulation of neurotoxic amyloid beta peptides along with neurofibrillary tangle formation are key pathological hallmarks of Alzheimer's disease. The brain has been considered as an immune-privileged organ, however, increasing evidence from translational, genetic, and pathological studies suggests that activation of distinct innate immune pathways are a third important disease hallmark which, once initiated, actively contributes to disease progression and chronicity.
Microglia play a pivotal role in this immune response and are activated by binding of aggregated proteins or aberrant nucleic acids to pattern recognition receptors. This immune activation leads to the release of inflammatory mediators, but also distracts microglia cells from their physiological functions and tasks, including debris clearance and trophic factor support. NLRP3 inflammasome activation and release of ASC specks contribute to spreading of pathology and impair microglia clearance mechanisms, and together contribute to neuronal spine loss, neuronal degeneration, and ultimately to spatial memory deficits. In keeping with this immune hypothesis of neurodegeneration, inhibition of this immune pathway protects from neurodegeneration in cellular and murine models of Alzheimer's disease. Modulation of the microglia driven innate immune response at key signaling steps might therefore be protective and alter disease progression. However, the microglia are not a stable population, but have continuous turn over, most likely resulting in more than one generation of microglia being involved in disease progression.  Moreover, their turnover is increased in response to neurodegeneration. Along with the regional diversity of microglia, these phenomena need to be understood in more detail prior to targeting innate immune mechanisms for therapeutic purposes. 
Funding: This work has been funded by the German Research Council (KFO177), the JPND consortium funding for InCure and the ERA-NET program Tracinflamm.
Conflicts of interest: The author is a member of the clinical advisory board of IFM Therapeutics.
« Go Back