Speaker
Golam Khandaker, University of Cambridge, UK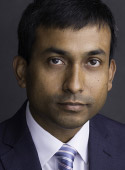 Khandaker is a psychiatrist interested in the interactions between the immune system, brain and mind. Funded by the Wellcome Trust, his research group investigates novel immunological mechanisms and treatment options for depression, schizophrenia and other psychiatric disorders. Khandaker is particularly interested in the role of low-grade inflammation (measured by cytokines, genes and peripheral immune cells). Khandaker uses population-based epidemiological cohort studies to examine causes and psychiatric consequences of inflammation. Khandaker uses clinical and immune-phenotyping to gain a better understanding of psychiatric patients who display evidence of low-grade inflammation. In addition, Khandaker uses clinical trials to examine the effect of novel immune-modulating drugs on cognition and mood. His work may help to inform more personalised approaches to treating major psychiatric disorders. Clinically, Khandaker has a special interest in the management of treatment resistant depression and depression in people with chronic inflammatory physical illness.
Notable work includes cohort studies showing an association of depression with circulating interleukin 6 (IL-6) levels and with genetic variants known to regulate activity of IL-6, which indicate that IL-6/IL-6R pathways may be causally linked to risk of depression. Khandaker received Young Investigator Awards from the International Early Psychosis Association (2014), the International Congress on Schizophrenia Research (2015), and he was selected as a Rising Star in Psychiatry by the UK National Institute for Health Research (NIHR) in 2017.
---

Presentation abstract
Potential role of inflammation in depression and schizophrenia: cause and effective treatment
Dr Golam Khandaker PhD MRCPsych
Department of Psychiatry, University of Cambridge, Herchel Smith Building, Cambridge Biomedical Campus, Cambridge CB2 0SZ, United Kingdom
Email: gmk24@medschl.cam.ac.uk
Email addresses are provided for information in connection with the authors presentation only. Please do not mail credit card information under any circumstances.
There is evidence of low-grade systemic inflammation in patients with depression or psychosis, but causality has not been established. Concentrations of acute phase proteins (eg CRP) and inflammatory cytokines (eg IL-6) are elevated during depressive or psychotic episodes, but it is unclear whether this increase is a result of disease-associated stress (ie. reverse causality) or due to confounding by life style and other factors. To address the issue of reverse causality, we have carried out longitudinal population-based studies using data from birth cohorts from the UK and Finland. The findings suggest that elevated concentrations of CRP and IL-6 in childhood/ and adolescence are associated with increased risk of developing depressive or psychotic symptoms, and receiving a diagnosis of schizophrenia in adulthood. To address the issue of confounding, we have carried out genetic association analyses informed by Mendelian randomisation. We can show that a common functional variant in the IL6R gene (IL6RAsp358Ala; rs2228145 A>C), which is known to dampen down inflammation by impairing IL6R signalling, is protective for severe depression and psychosis. Findings from a meta-analysis of clinical trials suggest that anti-cytokine drugs improve depressive symptoms in patients with chronic inflammatory conditions, such as rheumatoid arthritis, independently of improvements in physical symptoms. Taken together, these studies suggest that low-grade inflammation, particularly the IL-6/IL-6R pathways, are involved in the pathogenesis of depression and psychosis. Anti-inflammatory drugs might be beneficial for some patients with depression, especially those with evidence of inflammation.
Funding
Dr Khandaker is supported by an Intermediate Clinical Fellowship from the Wellcome Trust (201486/Z/16/Z)
Conflicts of interest: None
« Go Back