Speaker
Hugh Perry, University of Southampton, UK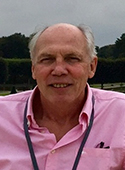 Hugh Perry is Professor of Experimental Neuropathology at the University of Southampton. His research is in the field of interactions between the immune system and nervous system, and in particular how systemic infection and inflammation play a role in driving the progression of neurodegenerative disease. He has published more than 300 peer-reviewed papers. He has been on research advisory boards and funding panels for government and charitable agencies. He has consulted for biotechnology and pharmaceutical companies in the area of neuroinflammation and neurodegenerative disease. He is a Fellow of the Academy of Medical Sciences (2005), was a member of the Nuffield Council on Bioethics (2006-2012), in receipt of a Royal Society Wolfson Research Merit Award (2011) and a Fellow of the Brazilian Academy of Science (2014). He was Chair of the Medical Research Council  (MRC, UK) Neurosciences and Mental Health Board and a member of MRC Strategy Board (2012-2017); he currently chairs the Oversight Board of Dementias Platform UK (DPUK) and is an advisor to the UK Dementia Research Institute (UKDRI). 
---

Presentation abstract
Manipulating the microglia in chronic neurodegenerative disease
Professor V. Hugh Perry
University of Southampton, Southampton, UK
Biological Sciences, University of Southampton,
LD80B Southampton General Hospital, Southampton, SO16 6YD UK.
Email: vhp@soton.ac.uk
Email addresses are provided for information in connection with the authors presentation only. Please do not mail credit card information under any circumstances.
Our understanding of the role of neuroinflammation in chronic neurodegenerative disease has evolved from the initial notion that this innate immune response is a mere consequence of ongoing synaptic and neuronal degeneration, and accumulation of misfolded proteins to the now-prevailing view that neuroinflammation is a substantial contributor to disease progression. Thus, manipulating the microglia response in patients has emerged as a possible route for therapeutic intervention in diseases such as Alzheimer's disease, Parkinson's disease, amyotrophic lateral sclerosis, and prion disease.  However, the benefits from manipulating this cell population in patients has to be assessed in light of the potential roles of the microglia in the homeostasis of the healthy CNS, which include removal of apoptotic cells, synapse surveillance, phagocytosis of exuberant, abnormal, or degenerating synapses, phagocytosis of debris, trophic support of neurons and perhaps others.  Manipulating this cell population in patients with neurodegenerative disease might result in a disease-modifying immunotherapy that does not require the elimination of all of the microglia, but that could still be harmful for the host.  Findings from microglia-targeted immunomodulation studies in animal models of chronic neurodegeneration can help in guiding the development of immunotherapy.
Funding: Studies in the author's laboratory were funded by the Medical Research Council (UK) and the Wellcome Trust
Conflicts of interest: None
« Go Back