Speaker
Tom Pollak, Kings College London, UK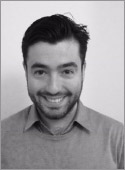 Thomas Pollak is a general adult psychiatrist and Wellcome Trust Clinical Research Training Fellow at the Institute of Psychiatry, Psychology and Neuroscience at King's College London, UK. His research focuses on the neuroimmunological basis of psychiatric disease, using neuroimaging and neuroimmunological methods to characterise the significance of neuronal autoantibodies in patients with psychotic symptoms. His other interests include the diagnosis and treatment of autoimmune encephalopathies, the role of infections in psychiatric disorders, glutamatergic abnormalities in psychosis and clinical neuropsychiatry. Pollak clinical work is as a specialty trainee psychiatrist at South London and Maudsley NHS Foundation Trust.
---

Presentation abstract
Case studies in autoimmune encephalitis and psychiatry
Dr Thomas A. Pollak MRCPsych1, Dr Graham Blackman MRCPsych1, Dr Nick Moran PhD2, Professor Anthony David MD1
1Department of Psychosis Studies, Institute of Psychiatry, Psychology and Neuroscience, King's Health Partners, King's College London, London, UK
2King's College Hospital NHS Foundation Trust, London, UK
Correspondence: Dr T A Pollak, Department of Psychosis Studies, Institute of Psychiatry, Psychology and Neuroscience, King's Health Partners, King's College London, De Crespigny Park, Denmark Hill, London SE5 8AF, UK,
Email: thomas.pollak@kcl.ac.uk
Email addresses are provided for information in connection with the authors presentation only. Please do not mail credit card information under any circumstances.
Background: The description of autoimmune encephalitis (AE) occurring in association with autoantibodies to neuronal surface targets has been a game-changer for clinical neurology. Increasingly, psychiatrists see patients with autoimmune encephalitis either during the initial 'psychiatric' phase of illness, or during a medical admission in a consultation-liaison context. Over the last few years reports of 'isolated psychiatric' cases of N-methyl-D-aspartate receptor (NMDAR) antibody encephalitis, that were also responsive to immunotherapies, have caught the psychiatric imagination and have the potential to change psychiatric practice. Little attention has thus far focused on long-term psychiatric outcomes of people with AE, including the development of de novo symptoms and syndromes.
Methods and Findings: Short cases that will illustrate the importance of AE to psychiatric practice in a number of settings including general adult inpatient psychiatry, consultation-liaison psychiatry in a general medical hospital, and outpatient community-based psychiatry were selected. The potential for iatrogenic harm, through inappropriate immunomodulatory or psychiatric treatment, were considered.
Interpretation: Recognition of the core features of AE is crucial for all psychiatrists as timely treatment can greatly affect outcome; furthermore psychiatrists have an important role in the management of psychiatric disturbance during acute AE.  
There is an increasing 'grey area' of predominantly or solely psychiatric presentations in which neuronal autoantibodies may or may not have pathogenic relevance: psychiatrists need to be aware of the complexities in determining the relevance of a positive serum autoantibody test given the increasing availability and take-up of testing.
Finally there is an emerging and potentially huge unmet need for appropriate psychiatric follow-up and mental health support in people who have recovered from acute AE.
Funding: Dr Pollak is supported by a clinical research training fellowship grant from the Wellcome Trust (no 105758/Z/14/Z).
Conflict of interest: None
« Go Back