Speaker
Marco Prinz, University of Freiburg, Germany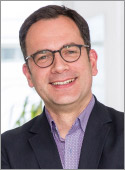 Marco Prinz is Professor of Neuropathology and Chair of the Institute of Neuropathology at the University of Freiburg, Germany. Prinz obtained his MD at the Charitè, Humboldt-University Berlin in 1997. During his MD thesis he investigated the pathology of cortical interneurons in humans at the Institute of Neuroanatomy at the Charitè Berlin. He did a postdoc at the Max-Delbrück-Centre (MDC) of Molecular Medicine, also in berlin, investigating the function of glial cells in the CNS, especially microglia. He did his residency in Neuropathology at the University Hospital Zurich, Switzerland, where he studied the role of the peripheral and CNS-restricted immune system on the pathogenesis of neurodegenerative diseases, such as prion diseases. In 2003 he became a group leader at the University Hospital in Göttingen, Germany, and in 2007 he become Lecturer of Neuropathology at this institution.
Prinz was recruited to the University of Freiburg, Germany, in 2008, and he is now Full Professor and Chair of the Institute of Neuropathology.
Prinz's research team investigates the mechanisms that regulate the development and function of the mononuclear phagocyte lineage in the CNS, including microglia, perivascular, and meningeal macrophages. His laboratory has made seminal discoveries in CNS macrophage biology revealing their embryonic origin and their local maintenance in situ. Prinz belongs to several German Research Foundations (DFG)- and EU-funded scientific consortia to decipher the transcriptional regulation of the macrophage lineage in the CNS.
Currently, his research group aims to understand myeloid cell biology in the CNS and studies the impact of the immune system on the pathogenesis of neurodegenerative diseases, ultimately aimed at identifying novel therapeutic strategies and targets to treat these CNS diseases.
Professor Prinz has authored more than 170 original research articles and reviews in high-profile journals and has obtained extensive DFG and EU funding for his studies on macrophage biology in the CNS in mice and humans.
---
Presentation abstract
From yolk sac to neurodegeneration: the multiple facets of microglia
Professor Marco Prinz,
Institute of Neuropathology
University of Freiburg
Breisacherstrasse 64
D-79106 Freiburg
Germany
E-mail: marco.prinz@uniklinik-freiburg.de
The brain of patients who have a neurological or psychiatric disease host a heterogeneous population of myeloid cells, including parenchymal microglia, perivascular and meningeal macrophages and blood-borne monocytes. To date, these different types of brain myeloid cells have been discriminated from each other on the basis of their localization, morphology, and surface epitope expression. However, recent data suggest that resident microglia might be functionally distinct from bone marrow- or blood-derived phagocytes, which invade the CNS under pathological conditions. During the last few years, research on brain myeloid cells has been markedly changed by the advent of new tools in imaging, genetics and immunology. The new methodologies have yielded unexpected results, which challenge the traditional view of brain macrophages.
On the basis of these new studies brain myeloid subtypes can be differentiated with regard to their origin, function, and fate in the brain.
Funding: The German Research Foundation (DFG)
Conflicts of interest: None
« Go Back