Speaker
Joan Santamaria, University of Barcelona, Spain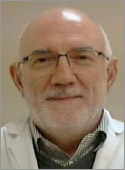 Joan Santamaria, MD, PhD, is a neurologist and clinical neurophysiologist at the Hospital Clínic (Barcelona, Spain), and Associate Professor of Neurology at the University of Barcelona Medical School. He trained in neurology in Barcelona (1978-1982) and in clinical neurophysiology and sleep at the Massachusetts General Hospital, in Boston, USA (1985-1987). He joined the Hospital Clínic of Barcelona in 1982, where he is currently Head of the Clinical Neurophysiology Laboratory and helped to create the Epilepsy and the Multidisciplinary Sleep Disorders Units.
Santamaria has conducted research in clinical neurology, electroencephalography of drowsiness, and sleep disorders in neurological diseases, including stroke, narcolepsy, and neurodegenerative diseases. A substantial focus of his research is the characterisation of REM sleep behavior disorder (RBD) and sleep in autoimmune CNS disorders, including anti-IgLON5 disease.
Santamaria has served as a member of the Scientific Committee of the European Sleep Research Society (2008-2012), and of the EU-Narcolepsy Network (2012-), and was Chair of the Subcommittee of Sleep Disorders of the European Neurological Society (2012-2014). His publications include several book chapters, a book, and more than 170 academic articles.
« Go Back