Speaker
Joan Santamaria, University of Barcelona, Spain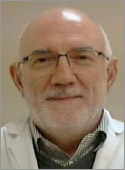 Joan Santamaria, MD, PhD, is a neurologist and clinical neurophysiologist at the Hospital Clínic (Barcelona, Spain), and Associate Professor of Neurology at the University of Barcelona Medical School. He trained in neurology in Barcelona (1978-1982) and in clinical neurophysiology and sleep at the Massachusetts General Hospital, in Boston, USA (1985-1987). He joined the Hospital Clínic of Barcelona in 1982, where he is currently Head of the Clinical Neurophysiology Laboratory and helped to create the Epilepsy and the Multidisciplinary Sleep Disorders Units.
Santamaria has conducted research in clinical neurology, electroencephalography of drowsiness, and sleep disorders in neurological diseases, including stroke, narcolepsy, and neurodegenerative diseases. A substantial focus of his research is the characterisation of REM sleep behavior disorder (RBD) and sleep in autoimmune CNS disorders, including anti-IgLON5 disease.
Santamaria has served as a member of the Scientific Committee of the European Sleep Research Society (2008-2012), and of the EU-Narcolepsy Network (2012-), and was Chair of the Subcommittee of Sleep Disorders of the European Neurological Society (2012-2014). His publications include several book chapters, a book, and more than 170 academic articles.
---
Presentation abstract
Antibody-mediated sleep diseases
Joan Santamaria, MD. Neurology Service and Multidisciplinary Sleep Disorders Unit, Hospital Clínic of Barcelona, University of Barcelona Medical School. Villarroel 170, 08036, Barcelona Spain e-mail: jsantama@clinic.cat
Background:
Sleep disorders are common in autoimmune encephalitis (AE), although usually overshadowed by other neurologic or psychiatric symptoms such as memory complaints, psychosis, or seizures. Sleep disorders, however, may be prominent and antedate the standard AE symptoms. A systematic analysis of sleep disorders in all AE might help improve clinical recognition and underscore its relevance in these diseases.
Methods:
Review of all sleep disorders described in AE. Patients with antibodies against LGI1, CASPR2, AMPAr, NMDAr, DPPX, anti Ma2, and IgLON5 antigens were selected because a variety of sleep symptoms has been reported in these diseases.
Findings:
All major types of sleep disorders occur in AE, including insomnia, sleep apnea, excessive daytime sleepiness (EDS), and parasomnias. Sleep problems may be the presenting symptom of the disease, but rarely appear isolated for long periods of time. Insomnia typically occurs in anti-NMDAr encephalitis during the first days or weeks of the disease, often combined with psychiatric symptoms. Insomnia associated with dream enactment behaviors appears in anti-LGI1 or anti-CASPR2 limbic encephalitis, sometimes several weeks before admission for seizures or confusion. Insomnia is also reported in about a third of patients with anti-DPPX antibodies and in patients with anti-AMPAr encephalitis. EDS is frequent in the recovery phase of anti-NMDAr encephalitis and has been described in a third of cases with Anti-Ma2 associated encephalitis, occasionally with cataplexy. Combinations of insomnia and EDS occur in anti-IgLON5 disease, where a complex parasomnia entailing both non-REM and REM sleep is also characteristic. Anti-IgLON5 disease patients display during sleep behaviors and seemingly purposeful movements during undifferentiated NREM sleep, REM sleep behavior disorder, and stridor with obstructive sleep apnea. Similar sleep behaviors have been reported in other AE. In many AE sleep disorders improve with immunotherapy.
Importance/Conclusions:
Sleep disorders are common in autoimmune encephalitis and may be their presenting symptom. Evaluation of sleep is important to fully understand and correctly identify AE.
Funding: None
Conflicts of Interest: None
« Go Back