Speaker
Michal Schwartz, Johns Hopkins University Hospital, USA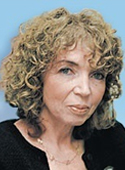 Michal Schwartz, a neuroimmunologist, earned her BSc degree in chemistry with distinction at the Hebrew University of Jerusalem, and her PhD in Immunology from the Weizmann Institute of Science in Rehovot, Israel (1997). She then moved to the US for a postdoctoral fellowship at the University of Michigan, studying nerve regeneration. Schwartz returned to the Weizmann Institute of Science, where she established her research group specializing in contemporary neuroimmunology, and was appointed to a tenured professorship at this institution.
Schwartz's research brought about a revolution in understanding and in the development of novel therapeutic approaches for neurodegenerative diseases in general, and Alzheimer's disease in particular. Her seminal studies over 20 years led to a paradigm shift in the perception of the cross talk between the brain and the immune system, and this model allowed her to suggest a novel immunotherapy, the first of its kind for Alzheimer's disease, that harnesses the power of the immune system to combat AD.
Schwartz has published more than 200 peer reviewed articles in high profile journals (Science, Nature, Nature Medicine, Nature Cell Biology, Nature Neuroscience, Cell, Immunity) as well as many invited perspective articles in leading journals (Nature rev. Neuroscience, Nature rev Immunology, Nature rev Neurology, Science).
She is currently the president of the international society of neuroimmunology. She has received numerous prestigious awards for her research, including recently the 2017 Rappaport Prize for Excellence in the Field of Biomedical Research. She was selected as the most influential women of the year 2017, by Lady Globes.
---

Presentation abstract
Tackling Alzheimer's disease by unleashing innate and adaptive immune cells
Professor Michal Schwartz, Department of Neurobiology, Weizmann Institute of Science, Rehovot, Israel; 76100. Michal.schwartz@weizmann.ac.il
Email addresses are provided for information in connection with the authors presentation only. Please do not mail credit card information under any circumstances.
The brain is no longer considered a completely autonomous tissue with respect to its immune activity. Rather, it is now recognised that immune surveillance is required for supporting its functional plasticity and repair. Essential immune cells for these tasks are the microglia, the resident myeloid immune cells, circulating monocytes, and CD4+ T cells. Both microglial activity and surveillance by systemic immune cells are under tight control. We have found that access of circulating leukocytes to the brain is controlled by the choroid plexus epithelium at the blood-brain-barrier. Using immunological and immunogenomic tools, we discovered that this interface does not function optimally to allow brain repair in the aging brain and under neurodegenerative conditions.
We envisioned that boosting systemic immunity would overcome the failure of the choroid plexus epithelium to support leukocytes trafficking to the CNS, and tried to boost immune surveillance in the brain by activating or de-repressing exhausted T cells in the periphery.
Our hypothesis was that blocking the inhibitory immune checkpoint would be effective in boosting the brain's immunity, provided that the treatment is administered intermittently.
In mouse models of Alzheimer's disease, we found that the activation of the immune system by transiently blocking the inhibitory PD-1/PD-L1 immune checkpoint pathway, needed to regulate memory T cell activity, drives an immune-dependent cascade that starts in the periphery and culminates within the brain. This intervention was found to be effective in modifying the brain milieu, reversing cognitive loss, reducing brain inflammation, and mitigating disease pathology in several mouse models of Alzheimer's disease with distinct disease etiologies, including those driven by amyloid-plaque deposition and tau-hyper phosphorylation. The techniques employed in our experiments include behavioral analyses, flow cytometry, immunohistochemistry, and biochemistry.
Overall, our results indicate that targeting systemic and local immune cells rather than brain-specific disease-escalating factors might provide a disease-modifying therapy for Alzheimer's disease.
Funding: Advanced European Research Council (ERC- 2016-ADG 741744), the Israel Science Foundation-Legacy Heritage Biomedical Science Partnership-research (grant 1354/15), Israel Science Foundation (grant 991/16), Consolidated Anti-Aging Foundation Chicago (2016-2017) and Adelis Foundation (2018-2021).
Conflicts of interest: The IP that emerged from my studies was licensed to a start-up company.
« Go Back