Speaker
Shen-Ying Zhang, Rockefeller University, USA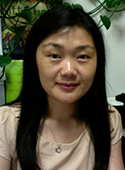 Shen-Ying Zhang, MD, PhD, is an Assistant Professor of Clinical Investigation at the Rockefeller University, and a senior researcher at the French National Institute of Health and Medical Research (INSERM - CR1). In the two branches of the Laboratory of Human Genetics of Infectious Diseases in USA and in France, she leads a team working on genetic predisposition to viral diseases mainly viral encephalitis. She has made substantial contributions to human immunology of viral infections. She played a major role in the discovery of the first five genetic etiologies of Herpes simplex encephalitis (HSE). Recently, with her collaborators working on induced pluripotent stem cells (iPSC) and central nervous system (CNS) neural cell biology, she has developed a model for the molecular and cellular dissection of viral encephalitis pathogenesis based on the use of human CNS cells differentiated in vitro from patient-specific iPSCs. Furthermore, her recent effort in expanding the viral encephalitis research program from HSE to other viral encephalitis has been proven promising by strong preliminary data. Her research is mainly funded by the Agence Nationale de la Recherche (ANR) and the National Institute of Health (NIH). Shen-Ying Zhang is the specialty chief editor for Viral Immunology section at Frontiers in Immunology. She is a member of the European Society for Immunodeficiencies and a member of the Henry Kunkel Society.
---

Presentation abstract
Inborn errors of immunity underlying childhood viral encephalitis
Shen-Ying Zhang1,2,3, MD, PhD
1. St. Giles Laboratory of Human Genetics of Infectious Diseases, Rockefeller Branch, The Rockefeller University, New York, New York 10065, USA
2. Laboratory of Human Genetics of Infectious Diseases, Necker Branch, INSERM U1163, Paris 75015, France, EU
3. Paris Descartes University, Imagine Institute, Paris 75015, France, EU
Email: shzh289@rockefeller.edu
Email addresses are provided for information in connection with the authors presentation only. Please do not mail credit card information under any circumstances.
Viral infections of the CNS have a cumulative prevalence of ~1/1,000 globally, and are a major cause of human morbidity and mortality. At least 20 viruses can cause life-threatening encephalitis in otherwise healthy patients. However, the pathogenesis of viral encephalitis has long remained elusive. Our research aims at understanding the host genetic molecular and cellular basis of viral encephalitis pathogenesis in children.
Taking advantage of next gene sequencing and induced pluripotent stem cell based neuronal cell differentiation technologies, we searched for and characterized inborn errors of immunity in childhood viral encephalitis.
Forebrain encephalitis caused by herpes simplex viruses 1 (HSV1) can result from inborn errors of Toll-like receptor 3 (TLR3) and interferon (IFN)-a/b immunity to HSV1 in CNS cells, due to gene mutations in TLR3, UNC93B1, TRIF, TRAF3, TBK1 and IRF3. Furthermore, brainstem encephalitis caused by HSV1, influenza virus or norovirus can result from inborn errors of RNA lariat metabolism, due to mutations in the debranching enzyme-coding gene DBR1.
The studies of inborn errors of immunity underlying childhood viral encephalitis have provided, and will continue to provide unique fundamental insights into the mechanisms of antiviral immunity in the human CNS, paving the way for new treatments of the patients.
Funding: The Rockefeller University, INSERM, NIH  grants 5R21NS084255, R01AI088364 and R01NS072381, ANR grant ANR-14-CE14-0008-01.
Conflicts of interest: none.
« Go Back