Speaker / Scientific Committee
Nick Fox, UK Dementia Research Institute, UK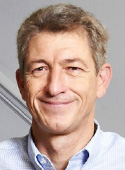 Nick Fox is a professor of clinical neurology and director of the Dementia Research Centre at UCL's Queen Square Institute of Neurology and honorary consultant neurologist at the National Hospital for Neurology and Neurosurgery. He is a founding principal investigator of the UK Dementia Research Institute. His first degree was in Physics and Physiology from Cambridge University. He graduated in Medicine from the University of London and subsequently specialised in cognitive neurology and was made a Fellow of the Academy of Medical Sciences in 2010.

Fox has published over 400 peer-reviewed papers and was listed as one of the most cited authors (Top 1%) in Neuroscience by Thompson Reuters from 2014-present. He was a member of the Prime Minister's Dementia Research Champions Group 2013-2015. He serves on the Alzheimer's Society's Research Strategy Council. He has received a number of awards including the Weston Brain Institute International Outstanding Achievement Award in 2017 and the 2018 Alexander Morison Medal from the Royal College of Physicians of Edinburgh.

Fox has clinical and research interests in neurodegenerative dementia that range from biomarkers, imaging and trials through to supporting patients and families with young onset, inherited and atypical dementias.
« Go Back