Speaker
Shirin Heidari, GENDRO, Switzerland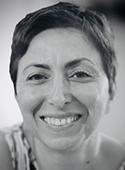 Dr Shirin Heidari is the founding president of GENDRO, an association with the mission to advance gender-sensitive research and data analysis. She is also Senior Researcher at Gender Centre, the Geneva Graduate Institute, where she is the Principal Investigator of a multi-country research on sexual and reproductive health in forced displacement. Dr Heidari also serves as Senior Technical Consultant on Gender to the World Health Organization.
Previously, Dr Heidari was the Executive Director of Reproductive Health Matters and Editor of its journal. Between 2007 and 2014, she oversaw the Research Promotion department of the International AIDS Society and was the Executive Editor of the Journal of the International AIDS Society (JIAS), where she introduced the first gender policy for an HIV journal in 2011.
Dr Heidari is the founding chair of the Gender Policy Committee of the European Association of Science Editors (EASE). She led the development of the Sex and Gender Equity in Research (SAGER) guidelines to help address the gender bias in academic publishing. She has given a TEDx talk encouraging gender-sensitive research and scholarly communication.
She has served as a board member of Amnesty International, Sweden and is a commissioner of the Lancet Commission on Women and Cancer.
« Go Back