Speaker
Ihsane Hmamouchi, Temara Hospital and Mohammed V University, Morocco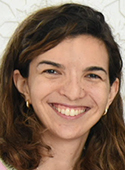 Dr. Hmamouchi, is a consultant rheumatologist at the Temara Hospital Center, and an epidemiologist at the Laboratory of Biostatistics, Epidemiology and Clinical Research (LBRCE), Mohammed V University, Rabat, Morocco. Her research interests include equity, patient education, telehealth with a focus on spondyloarthritis and osteoporosis.
Dr. Hmamouchi is the coordinator of the Biotherapy Registry of the Moroccan Society of Rheumatology (RBSMR) and associate editor of the Moroccan Journal of Rheumatology.
She is a member of the Arab Group for Awareness of Adult Arthritis (AAAAgroup), the Arab Task Force for Telehealth in Rheumatology, the Board of Directors of the French Society of Rheumatology, and the African AFLAR Subgroup for Osteoporosis.
In 2020, she founded Epirheum.com, a free web platform for scientific vulgarization on medical writing and biostatistics.
« Go Back