Speaker
Kimberly Templeton, The University of Kansas, USA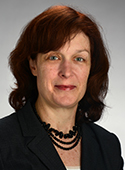 Kim Templeton, MD, FAAOS, FAOA, FAMWA is Professor and Vice-chair for Diversity in the Department of Orthopaedic Surgery and Associate Dean for Continuing Medical Education at the University of Kansas.  Dr. Templeton was the first McCann Professor of Women in Medicine and Science.  She received the inaugural Women Leaders in Medicine Award from AMSA in 2008, the  Siddridge leadership award for women in medicine from the University of Kansas in 2012, the Elizabeth Blackwell Award for outstanding contributions to the cause of women in the field of medicine in 2013, the Bertha Van Hoosen Award in 2019 for exceptional leadership and service to women physicians and students, and the Bernadine Healy Award for Visionary Leadership in Women's Health in 2022.
Dr. Templeton is a past-president of AMWA, the USBJI, and the Ruth Jackson Orthopaedic Society and is past vice-chair of the AMA Women Physician Section and past chair of the AMA Orthopaedic Section. She is a member of the AMA Foundation LGBTQ+ Commission, the ACGME Orthopaedic Residency Review Committee, and the NIH Office of Research on Women's Health Advisory Committee.
Dr. Templeton's publications focus on issues faced by women physicians and the inclusion of sex and gender in medical education.
« Go Back