Speaker
Fiona Watt, University of Oxford, UK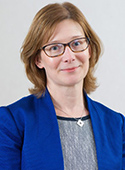 Talk: The influence of sex and sex hormones on musculoskeletal pain and osteoarthritis
Fiona Watt is a Clinical Reader, Honorary Consultant Rheumatologist and UKRI Future Leaders Fellow based at Imperial College London, UK. She was previously an associate Professor at the Kennedy Institute of Rheumatology, University of Oxford. She has a PhD in connective tissue biochemistry, from Imperial College London, and completed specialist training in rheumatology in West London. She leads the Clinical Translation theme within the Centre for Osteoarthritis Pathogenesis Versus Arthritis.
Fiona's clinical and research interest is in osteoarthritis, relating to clinical and biological factors which predict outcome in high risk groups and the development of novel biomarkers and interventions. Particular research interests are the initiation of osteoarthritis after joint injury and the effect of sex hormones and menopause on hand osteoarthritis. She leads a number of cohorts and clinical trials which focus on the treatment of this condition.
Fiona led the Versus Arthritis Musculoskeletal Disorders Research Advisory Group between 2019 and 2022. She has recently been appointed co-lead of the UK's NIHR MSK Translational Research Collaboration Musculoskeletal Conditions workstream to help develop experimental medicine in this area. She was awarded the British Society for Rheumatology's Michael Mason Prize in 2016 for her work exploring predictive biomarkers after joint injury.
« Go Back